In this interview training tutorial, Richard McMunn from PassMyInterview.com will explain which questions to ask in an interview. There is much debate as to whether or not you should ask questions at the end of an interview, and by the time you finish reading this tutorial, you know exactly what to say and do in respect of this important topic.
So, you get to the end of your interview and you feel everything has gone to plan. Then comes the question:
"Do you have any questions for the panel?"
It's a tricky one! Ask no questions at all, and you run the risk of appearing disinterested in the job. On the other hand, you could ask the wrong questions and blow your chances altogether!
There are many different behavioural interview questions you could get asked, depending on the type of interview you have. Below, I have provided you with a list of my top 10 behavioral/competency-based questions to be prepared for and then provided an in-depth tutorial on how to answer them:
SHOULD I ASK QUESTIONS IN MY INTERVIEW?
So, the first important question we need to answer is whether or not you should ask any questions in the interview. The simple answer is, YES!
It is very important that you ask the hiring manager a number of questions, and these questions should be pre-planned before you attend your interview.
Here are 3 reasons why it is important to ask questions at the end of your interview:
REASON #1
This is your chance to show you are positive about their company and that you keen and eager to learn more.
REASON #2
This is your opportunity to demonstrate your intelligence.
REASON #3
This is your opportunity to show you care about their company and that you want to help them improve within the role you are applying for.
Now, before I give you the top questions to ask in or at the end of your interview, let me list the questions you should avoid altogether and the reason why:
QUESTIONS NOT TO ASK IN AN INTERVIEW
So, what do you actually do here?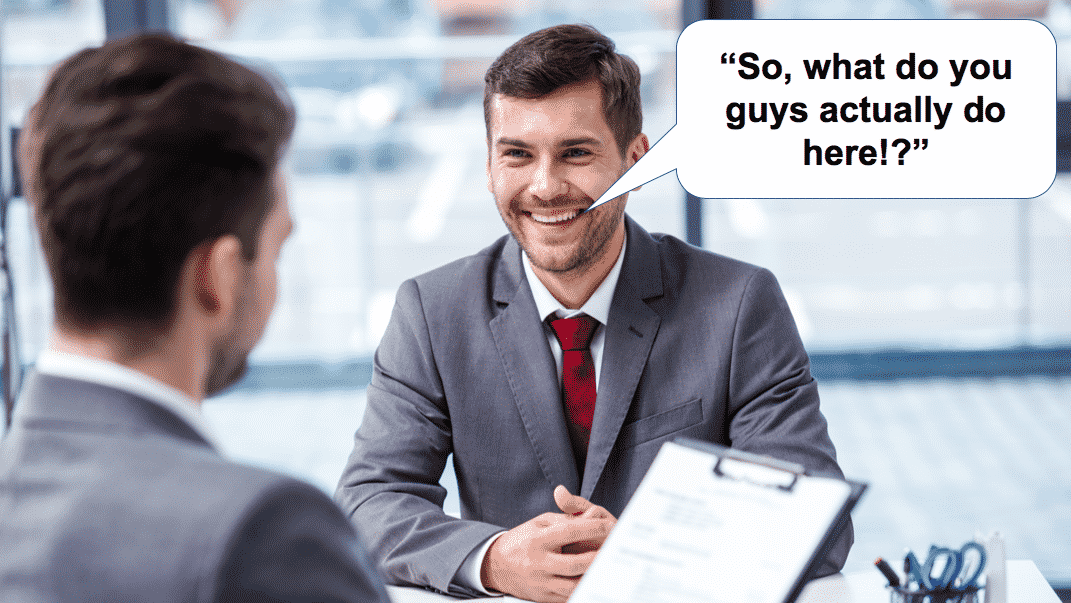 Perhaps the worst question you can ask in your interview! I've actually heard this question at least four times interviews, and straight away I know the person is not getting the job.
You see, this type of question shows a lack of research, and the simple fact is if they don't know what we do, how do they know they can do the job competently?
1. How much leave do I get?
Again, this question should be avoided at all costs. This if something to discuss during the job offer stage. The question shows you care more about yourself than the job, and whilst this might be the case for some employees, from an interviewer's perspective, it is unattractive and unprofessional.
2. So, how did I do in the interview?
This question is asked commonly by interview candidates, and again, it doesn't portray them in a positive light. The end of the interview is not the time to find out how it went, or what the interview panel think of you. Give the panel some breathing space and time to discuss/assess your performance. They will be in touch soon after to let you know the result and whether or not you got the job.
Finally, do not ask any questions in an interview that are designed to catch out the interview panel. Don't be clever, but instead be smart and intelligent!
Now that I have covered some of the questions not to ask during an interview, and the reasons why, let's explore the all-important questions you should ask, including how many to ask and the benefits.
QUESTIONS NOT TO ASK IN AN INTERVIEW
My advice, based on over 20 years' experience within the recruitment sector, is to ask 2 questions at the end of your interview, or 3 at the absolute limit.
You have to remember that, the interview panel does not have much time to discuss your performance at the end of the interview before they invite the next candidate in. If you are asking lots of questions, you are just tying them up from moving on to the next applicant.
Ask two great questions at the end of the interview that make you look smart, intelligent and employable.
QUESTIONS TO ASK IN AN INTERVIEW
QUESTION #1
"Who's your biggest competitor and what can I do in this role to help better them?"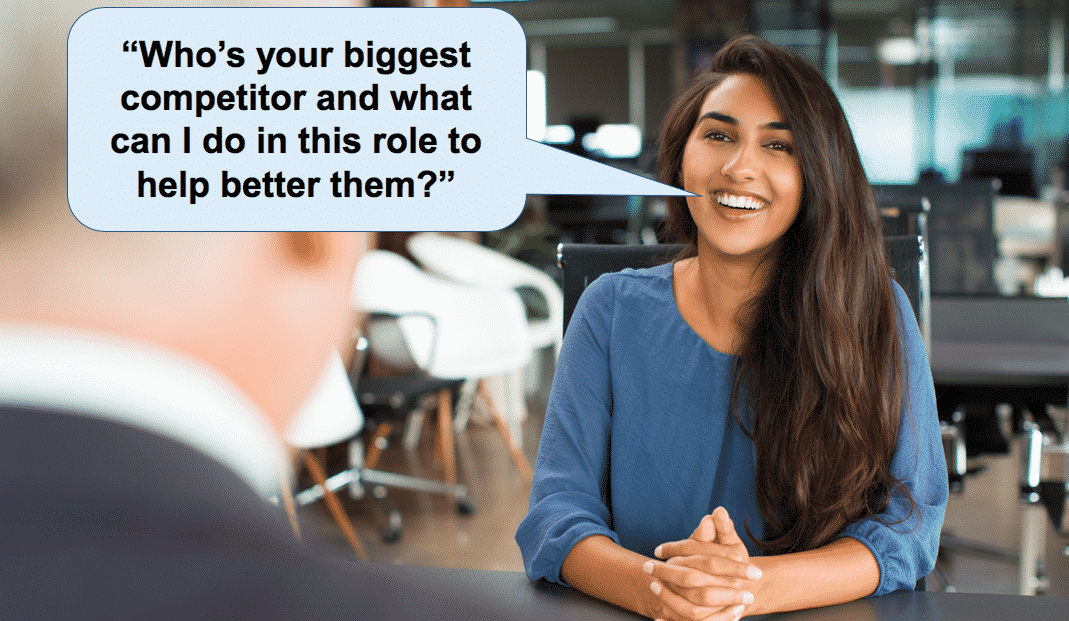 Wow! This is a great question to ask at the end of an interview. Not only does it show you are really interested in the company growing, but you want to know how you can help them in your role.
QUESTION #2
"Where do you see the company in the next 5 to 10 years' time?"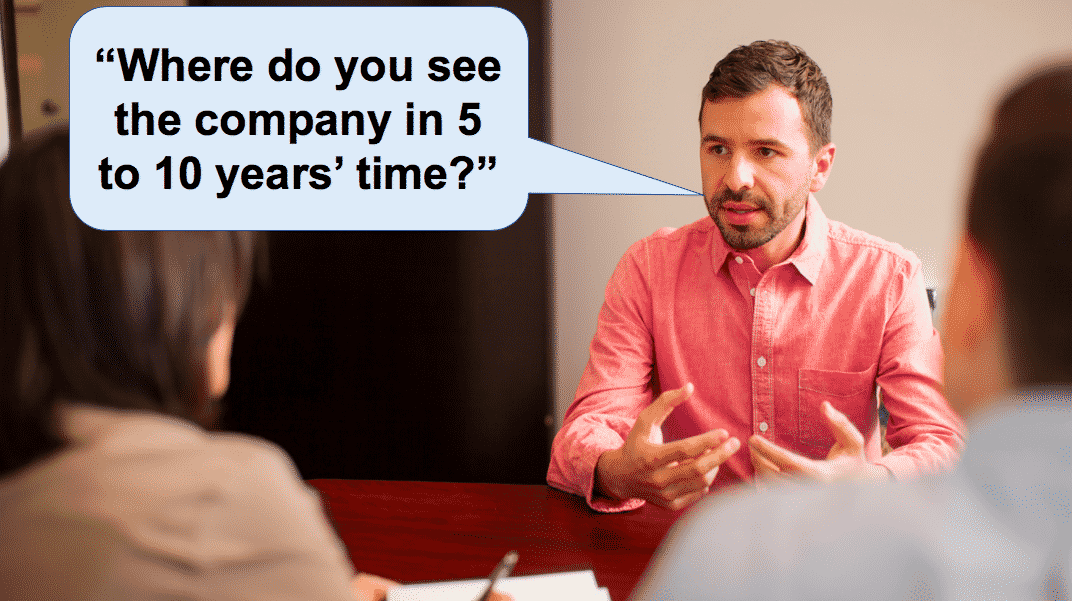 This question is most definitely on a par with the first one and it serves two purposes at interview. First, it shows you are keen to understand what enthusiastic and innovative plans the company has for its future, and secondly, it shows you plan on being with them for a long period time! In a world where most people do not stay in jobs for very long, this response will be very appealing.
So, if you take a moment to think about it, if you ask those two questions in your interview, you will undoubtedly leave a positive impression with the panel. However, if you do want to ask a further question at the end of your interview, here's another great one to ask:
QUESTION #3
"Whilst I am waiting to find out the result of my interview, is there any literature or company information I can read up on to find out more about your company?"
Once again, this question to ask in an interview show you are keen, enthusiastic and hungry to work for the employer.
SUMMARY OF QUESTIONS TO ASK IN AN INTERVIEW
So, as you can see, it is very important to ask some questions at the end of your interview. Here's a quick list of what we discussed within this tutorial:
Make sure you do ask some questions at the end of your interview.
Ensure the questions you ask are relevant and portray you in an enthusiastic and positive light.
My advice is to ask just 2 questions at the end of the interview.