HOW TO MAKE A GREAT LINKEDIN PROFILE! (LinkedIn Summary Tips and TEMPLATES!)
In this guide, we will take a look at:
#1. Why a great LinkedIn profile is ESSENTIAL.
#2. We will give you 5 fantastic tips for creating a powerful and impactful LinkedIn profile.
#3. We will tell you the 8 BEST WORDS to use on your LinkedIn profile to improve credibility.
DOWNLOAD RICHARD MCMUNN'S SET OF 60 'READY-MADE' LINKEDIN PROFILE TEMPLATES BELOW!
ADD TO CART:
Download The Templates
Why is it important to have a great LinkedIn profile?
REASON #1 – It will help you get hired!
Hiring managers and employers will look at your LinkedIn profile.
REASON #2 – You will struggle to get connections if your LinkedIn profile is weak.
People are more likely to connect with you on LinkedIn if your profile looks professional, and you are active.
7 POWERFUL TIPS for creating a GREAT LINKEDIN Profile!
LINKEDIN PROFILE TIP #1

Have a clear head and shoulders photo with a white background.
Wear a smart outfit, smile, and look straight ahead – this shows confidence.
How to make the background on a photograph transparent or white? You can use either of these two websites: www.canva.com or www.remove.bg.
LINKEDIN PROFILE TIP #2
Upload a clean and simple LinkedIn banner.
On the banner, include your name, and area of specialism.
Get FREE LinkedIn banners at Canva.com.
LINKEDIN PROFILE TIP #3
Create a short but impactful headline. For example: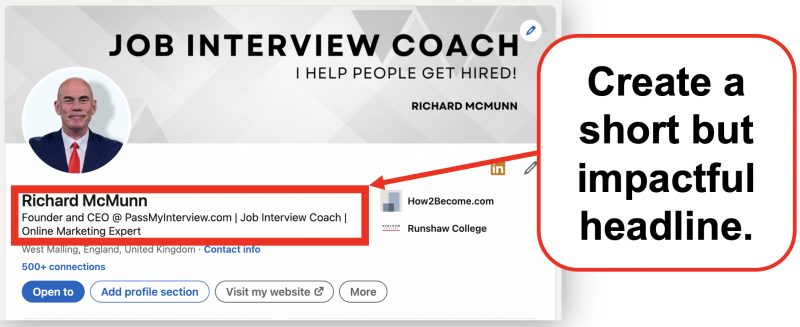 LINKEDIN PROFILE TIP #4
Your LinkedIn summary is the section of your profile where you DESCRIBE YOURSELF.
In your summary it is important to sell yourself and show off your skills and achievements!
LINKEDIN PROFILE TIP #5
Make sure you add SKILLS to your LinkedIn profile.
TOP 10 IN-DEMAND SKILLS
Communication
Customer Service
Leadership
Sales
Project Management
Research
Management
Analytical Skills
Marketing
Teamwork
The 8 BEST WORDS to improve credibility on LINKEDIN!
CUSTOMER-CENTRIC
This means you put customers first and always provide outstanding service.
TEAM-PLAYER
This means you do not work in isolation. You collaborate with others to get the job done.
PROBLEM-SOLVER
This means you take ownership of difficult challenges and problems.
ADAPTABLE
This means you are not rigid in your work but will be flexible to assist your employer.
RESILIENT
You remain calm in the face of adversity and recover quickly from difficult situations.
RESULTS-DRIVEN
Your work is focused on achieving great things for your employer.
COST-CONSCIOUS
You are frugal with supplies and resources and seek ways to help save money!
VALUE-FOCUSED
Your work is focused on giving your employer a great return on their investment.
60 LINKEDIN PROFILE HEADLINES AND SUMMARIES! 
(DOWNLOAD YOUR TEMPLATES BELOW!)
DOWNLOAD RICHARD MCMUNN'S SET OF 60 'READY-MADE' LINKEDIN PROFILE TEMPLATES BELOW!
If your LinkedIn profile is unsuccessful, we will provide a full refund!
YES, I WANT THE TEMPLATES!